Botcon 2001
BACK
&nbsp&nbsp&nbsp&nbsp&nbsp Friday night, the convention opened with the Dinner. Although I prefer MacDonald's to a fancy dinner, it was a great time, and I certainly hope it will be back again next year. The Exclusives were great. There seem to be more and more every year, and I say the more the better! The Dinner exclusive were prints of all the Maximals and Predacons from Beast Wars. They were really cool.
&nbsp&nbsp&nbsp&nbsp&nbsp The Exclusive toys were Arcee (TM2 Blackarachnia Repaint) and Tigatron (Beast Wars Metals Ravage Repaint). Both are incredible, and all of the preregistered Arcee toys were packaged with a voice chip recorded by Susan Blu!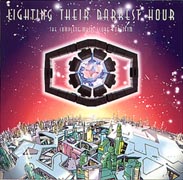 &nbsp&nbsp&nbsp&nbsp&nbsp There were four CD's offered at the Convention, NRG Transformed by Ernie Burns, and three CD's by Vince DiCola including Lighting Their Darkest Hour, the complete Musical Score from Transformers: The Movie.
&nbsp&nbsp&nbsp&nbsp&nbsp Another great exclusive is the Transformers: The Movie, 15th Anniversary Plate. This is the second plate in a series began with the Dinner Exclusive in 2000. I hope this series continues for many years to come.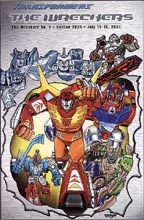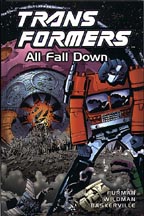 &nbsp&nbsp&nbsp&nbsp&nbsp Titan Books produced a special Hardcover Edition of Transformers: All Fall Down, a reprinting of the Transformers Comics Issues 69-74. Another Comic, The Wreckers #1 was also available with both a regular and variant (pictured) cover. There was some talk on the Botcon Beyond Forums of the possibility of a continuing comic to come out more than once a year. I would really like it if this happened. A continuing Transformers Comic would be great.
&nbsp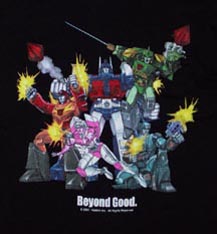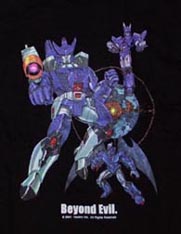 &nbsp&nbsp&nbsp&nbsp&nbsp Two Transformers: The Movie T-Shirts were also available at the Convention, one Autobot, and one Decepticon. Both have very nice art work.
&nbsp
&nbsp
&nbsp
Botcon:

4 CD's
Plate
Dealer Badge w/ Lanyard
Tigatron
Arcee w/ Voice Chip
Arcee w/o Voice Chip
T-Shirt
Movie Shirt Autobot
Movie Shirt Decepticon
Print Maximal
Print Predacon
Hardcover Comic
2000 Comic Autographed
2001 Comic Autographed
2001 Comic
2001 Program Autographed
2001 Program

Botcon Japan:
G1:

Time Warrior
Grimlock Decoy
Red Scrapper Decoy
Red & Black McDonald's Bumblebee
Autobot Blue Mazda Mini Spy
Autobot Yellow Porche Mini Spy
Decepticon Blue Porche
Decepticon Yellow Jeep
Electronic Intercom Telephone System
Slag Sneakers
Omega Supreme Sneaker Box
Sticker Machine
Showbean Cartridge
War of the Dinobots Box
Transmanual
Recognition Guide #2
Jazz Portfolio
Megatron Portfolio
TF Audio Cassette

G2:

Grimlock Halloween Costume

Brazil:
UK:

Poster Art Set
Optimus Prime Soap
Curtains Set
TF Advent Calender
Ultra Magnus Color Set
Optimus Prime Color Set
Shoulder Bag
Stationary Set
2 Framed Pictures
Lazer Blazer Stickers

Germany:
Holland:
Japan:

Kabaya Galvatron
Kabaya Beachcomber
Kabaya Seaspray
Famicom Game
PVC Megatron Clear/Painted Knock Off
Japanese Sticker Book
Dinoking D-326 Loose/Complete
Train Bot Junior C-326/C-330
Train Bot Junior C-327/C-328
Six-Builder TF-05
Browning D-308
Dinoking D-322
Dinoking D-323
Dinoking D-324
Dinoking D-325
Greatshot C-325
Trypticon Junior D-63
Micromaster Team With Trailer C-366/MT-6
Micromaster Team With Trailer C-367/MT-7
Micromaster Team With Trailer C-368/MT-8
Black Shadow D-309
Blue Bacchus D-310
Large Optimus Prime PVC
Large Megatron PVC
Decoy Sets 1, 2, & 3
Goshooter Silver Bracelets
Universe of Primacron
TF Chronicles
TF in Japanese Missions
Sixbuilder Color Art Set

Beast Wars:

Transmetals N64 Non Blockbuster Version
Optimus Primal Bat Light Knees No Accessories
Japanese Sticker Pack
Japanese Metal Monument Convoy
Press Release

Beast Wars II:

Trading Card Insert S4
Trading Card Insert S5
Sticker Gold #97
Sticker Gold #100
Sticker Silver #91
Sticker Silver #90
Lio Convoy Egg

Beast Wars Neo:
Beast Machines:

Jetstorm Variant No Accessories

Knock Offs:

Knock Off PM Optimus Cab/Flatbed
Large Black Bluestreak Knock Off
Japanese Devestator Knock Off
Large Bonecrusher
Large Scrapper
UK Walkie Talkies

Fanmade Items:

Autobot Earings
Decepticon Earings
Fanmade Autobot Large Envelope Holder
Fanmade Decepticon Large Envelope Holder
Fanmade Autobot Small Envelope Holder
Fanmade Decepticon Small Envelope Holder
Fanmade Autobot Sailboat Clock
Fanmade Decepticon Sailboat Clock
Japanese Autobot T-Shirt

Non TF:
BACK
---