Botcon 2002
BACK
&nbsp&nbsp&nbsp&nbsp&nbsp As usual, Friday night, the convention opened with the Dinner. Unfortunately their was no exclusive this year, due to an unfortunate legal issue with Cartoon Network. The first episode of Armada was shown, and although the dialogue between the kids was pretty bad, the animation was good, and Gary Chalk and David Kaye are back to do the voices of Optimus Prime and Megatron, it should be a great show.
&nbsp&nbsp&nbsp&nbsp&nbsp The exclusive toys were Cyclonus (Ultra Jetstorm Repaint), Catscan (Night Slash Cheetor Repaint), Tap-Out (Ciffjumper Key Chain Repaint), and Glyph (Bumblebee Key Chain Repaint). All are great. Some of the other items that were available were an Arcee Lithograph, and a Beast Wars Postcard Set.
---
---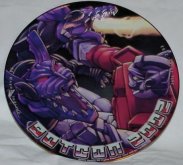 &nbsp&nbsp&nbsp&nbsp&nbsp Another great exclusive is the Transformers: RID Plate. This is the third plate in a series began with the Dinner Exclusive in 2000.
Botcon:

Beast Wars Post Card Set
T-Shirt Megatron
Arcee Litho
Dealer Name Badge
2002 Comic
Lollipop White
Lollipop Yellow
Plate
Print Optimus Prime and Rodimus Prime
Print Skywarp
Print Transmetal Tigatron
Program Signed
T-Shirt Optimus
Catscan
Cyclonus
Glyph
Tap Out
Unicron Order Form

G1:

Megatron AM Microphone
McDonalds Toy Bumblebee Pink and Blue
McDonalds Toy Cliff Jumper Black and Red
McDonalds Toy Gears Green and Blue
Transformers Design Center
Matrix Necklace Set Autobot & Decepticon
Mini Spy White
Hide and Sleep Tent Missing Pegs
Night Light
Beach Shoes
Optimus Prime Wallet
Gloves Galvatron
Gloves Rodimus Prime
Gloves Ultra Magnus
Gloves Wreck-Gar
Snow Boots Ultra Magnus
Stars Membership Card
Pencils (2) and Box
Stars Iron-On Reflective Patch

UK:

Bombshell Action Master
Tracks Action Master
Power Flash
Take-Off
Starscream Bank
Transformers Board Game
Shoulder Bag Optimus Prime and Jazz
Beast Wars Video UK X2
Time Warrior Special Offer

Japan:

Grand Maximus
Black Zarak
Metal Force Prime (Original)
Rodimus Prime Junior
Beast Wars Universe Update
Japanese Playing Card Set
Super Fire Convoy Collector Card
Gumball Machine Rubber Figurine Laserbeak Orange
Gumball Machine Rubber Figurine Ravage Orange
Pencil Board Operation Combination
Optimus Primal Ape Wind Up
Optimus Primal Robot Wind Up
Rhinox Magic Motion Card
Tarantulas Magic Motion Card
Transformers Chronicles Tech Spec Manual

Beast Wars:

Polar Claw Variant
Optimus Primal Bat X3

Beast Wars II:

Japanese Beast Wars II Glasses

Armada:
Knock Offs:

Purple Rattrap X2
Interchanger
Krystal Restaurant Beast Set
Blades

Fanmade Items:

Optimus Prime 911 Mouse Pad
Print Rodimus
Print Generation 1
Print Generation 2
Print Rodimus Prime and Dead Autobots
Print Soundwave and Megatron
Print Starscream and Megatron
Print Tracks and Cosmos
Autobot Pin Light
Print Beast Machines Twilight
Print Laser Optimus Prime
Transformers Music Video
Print Autobots
Print Decepticons
Print Optimus Prime
Print Optimus Prime vs. Megatron
Print Unicron Head
Black Arts Postcards Autobot
Black Arts Postcards Decepticon
Print DVD Volume 1 Cover
BACK
---